Ads Make Our Folds As You Eat Pizza Plates FREE* -- Just Like Ads on Coffee Cup Sleeves Do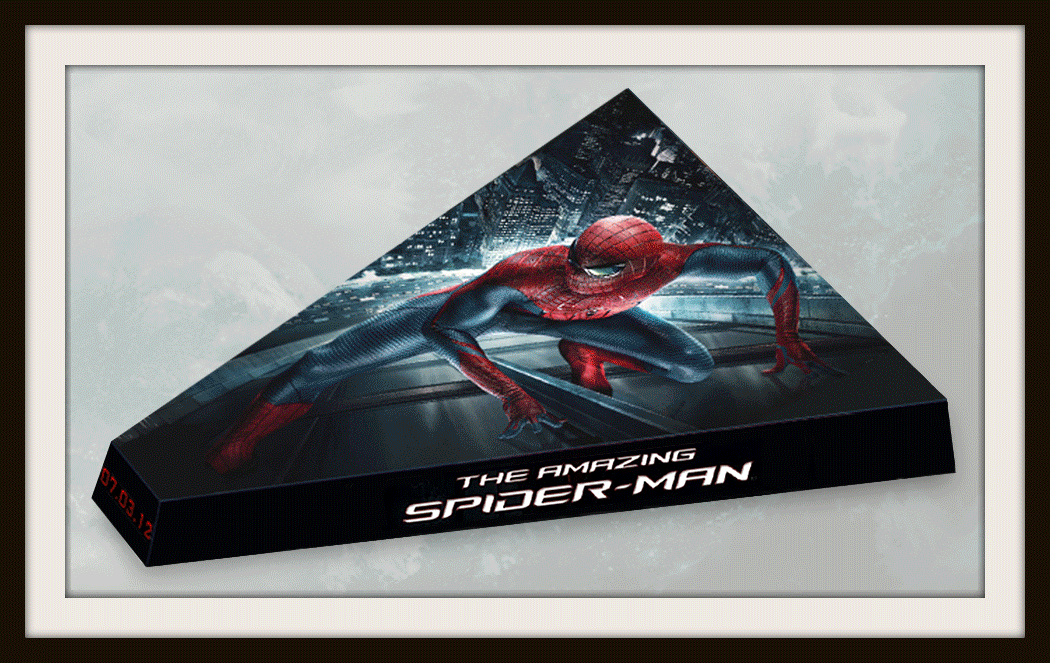 Examples: Blockbuster Promotions of Films and Video Games on Our Boxes &amp Plates
*Subject to Minimum Volume Requirements. Pizza Plate and Box are Producible from Any in a Variety of Eco-Friendly Materials
(Any trademarked content shown on this page is the property of its respective owner)
Free - For America's #1 Hot Beverage
Everyone's familiar with coffee cup sleeve ads. What a great solution to what used to be a cup-within-a-cup workaround for insulating a too hot to handle cup of coffee. After happy customers started using them by the millions, someone figured out that ads placed on the sleeves could make them FREE. In a few years thousands of coffee shops were handing them out (saving happy venue owners a whole lot of money by saving all those second 'insulating' cups). With the sleeve/ads being so popular, before too long a number of different companies were vying with one another to provide their own version of the cup sleeves. Quick Facts: Just one out of five cups of coffee are consumed out of home. There are about 22,000 coffee shops in the U.S.
---
Free - For America's #1 Takeout & Delivered Food Too (Coming Soon)
So Why Not Provide FREE Paper-Conserving Pizza Plates Too? - Coffee cup sleeves and the sleeves-with-ads are a proven hit with America's #1 hot drink (from a portion of the 22,000 coffee venues) for the one out of five cups served out of home. That got us wondering if similar advantages of our patented Folds As You Eat plates might do the same for America's #1 delivered / takeout food: from among 70,000 pizza venues serving over 20 billion pizza slices a year. We'd already pared down a significant amount of material typically used to serve this #1 food. By matching the shape of our Folds As You Eat plates to the actual shape of sliced pizza (...why serve triangular slices on table-anchoring round plates, or round pizzas in square boxes?). We'd designed an upper-tab grip making pizza contact 'optional' (and reducing napkin use / costs)--the upper tabs also serving as handheld 'Mini-Billboards' for logos, branding and promotional content. We'd sourced out major packagers for producing the plates and boxes, including those producing with Eco-Friendly materials (e.g., recyclable and compostable). And realized pizzerias that 'Get Mobile' with our plate's single handheld ease of use could win more customers, by giving pizza the same convenience and portability advantages as the Best-Selling takeout foods (like burgers, sandwiches...). But we felt we also needed concrete validation of our plate's 'advertising model' and market potential.
Lunch Encounters of the First Kind - Our first break came in getting a personal introduction to meet with an advertising professional having years of experience as the CEO of one of the world's best-known advertising agencies. In fact, his stewardship and expertise lead this world-class advertising company into the top tier of billion dollar+ agencies. Over lunch, we briefly explained what we felt our proprietary plates and boxes could do. Then we set several of them down on the table (just like the ones shown above). In the few seconds it took to pick one up and look at each side, he looked at us, and summed up his analysis of their merits in one syllable, saying: "Duh!" We could not have been more pleased with his positive response and ongoing assistance thereafter. And I'd have to admit, that was the fastest response to a new product pitch I'd ever experienced (and a great example of CEO decisiveness). So, our 'lunch encounter' gave us the type of concrete advertising feedback we'd been looking for, but we still needed to know about the market potential of our patented plates.
Written Reservations at 'Ten Million Plates Per Hour' - Boosted by the confirmation of our plates' advertising value we arranged to exhibit them at The International Pizza Expo. Held each year in Las Vegas, the Pizza Expo is the world's largest pizza-related show. Knowing the advertising on the plates would cover all production costs and necessary profits, we decided to be a bit audacious. We set up a sign that simply read: Stop Paying for Plates - Get Them FREE Forever! Then we explained how family-friendly ads for feature films, cross promotions, video games and the like paid for our plates, just like the ads on coffee cup sleeves made the sleeves free for coffee venue owners and their customers for years. We also let pizzeria owners know how the plates and boxes could be printed with their own brand/logo on them, making them 'walking advertisements' for their pizzerias. They all 'Got It' right away. Within just a couple of hours we had guests at our booth telling us "You've got the busiest booth at the show" (not bad, considering there was close to a 1000 booths). On a First-Come / First-Served basis we took written reservations for our plates with ads (based on a verifiable number of conventional round plates already being used at each pizzeria owner's venues). In no more than six total hours of Expo time we had written reservations for 60 million plates a year. When we realized that was a sign-up average of ten million plates per hour -- we were astounded. We knew it had taken coffee cup sleeves, and sleeves with ads, a number of years to reach those kinds of numbers. So we couldn't have been happier to see a similar demand for our plates reached in just those few hours.

What's Next? Letting Qualified Companies Know Huge Licensing Opportunities are Available Now - Is your company interested in participating in a market having the kind of numbers reported above? Obviously, with 3 billion pizzas being sold in the U.S. each year, this is already a HUGE market. But now it's about to get the same convenience and portability advantages that its Best-Selling Takeout competitors have had for decades. And it's available NOW for major pizza selling businesses and plate producers that 'Get Mobile.' If you're company is one or more of the following we'd be happy to discuss exclusive and non-exclusive licensing opportunities with you: an advertising leader in its field; a major food-packaging company equipped to serve the dynamic needs of high-volume print (often time-sensitive) advertising; a major foodservice company; a C-Store, Fast-Casual or QSR chain; a large pizza venue chain; a concessions provider at major venues; and so on. If so, we warmly invite you to contact us and look forward to talking with you at your earliest convenience (see 'Contact Information' below).

FREE + Pizza Gets the Same Convenience &
Portability
as the Best-Selling Takeout Foods